Splashing the Month of October with Ink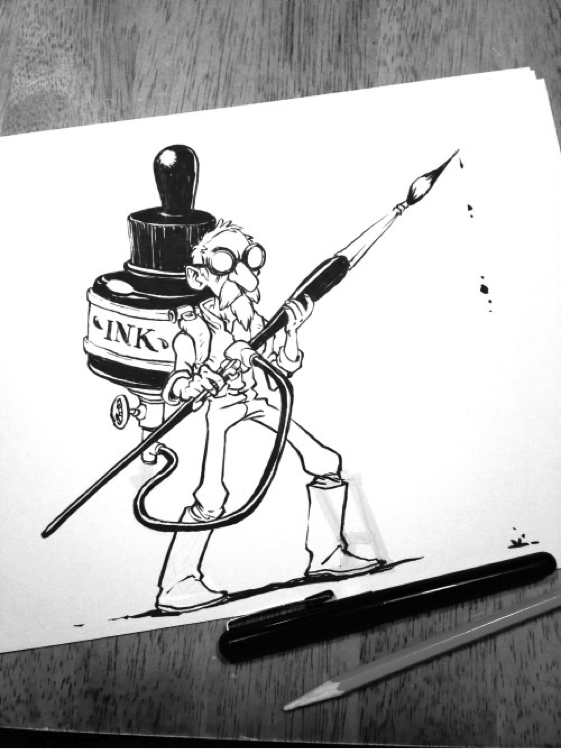 Christia Cuison, Writer
October 21, 2015
Trends constantly run through the art world, from drawing characters in the latest Disney movie to using Photoshop to bring different mediums of art together. The vast variety of the artwork available in countless places gives artists the inspiration to expand their personal styles and improve their skills along the way. Which brings us to the latest sensation that artists of all levels are taking part in during the month of October: INKtober.
The rules of this annual challenge are simple as explained by its creator, Jake Parker, on his website mrjakeparker.com. The most important one is that an artist has to create work using only inking tools as their medium, although you are allowed to sketch out your drawing first as long as it is inked over in the end. Any tool with ink can be used, from a plain ball-point pen to a professional fountain one.
However, what makes this a true challenge is that multiple artworks have to be created and posted on any social media platform regularly throughout the month of October using the hashtag, "#Inktober". Jake Parker reassures participants that submitting artwork daily is not required as long as you find a schedule you can easily use to devote yourself to the challenge. He explains that, "INKtober is about growing and improving and forming positive habits, so the more you're consistent the better." This challenge is open to everyone who wants to improve their creativity and get more inspired.
Now this is a way to bring up the Halloween spirit. Are you willing to accept this fun challenge?