Girls Soccer: Boro Dynamic Duo Goes D-1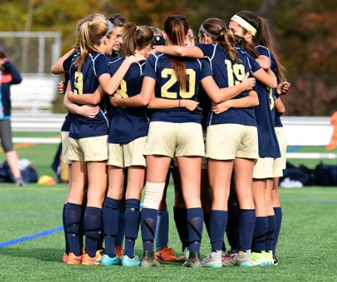 Girls' soccer at Freehold High School is a perennial powerhouse. With elite prospects coming in every year, Coach Elyse Ingui molds that raw talent into a final product that is constantly a threat in winning trophies. In Ingui's distinguished head coaching career at the Boro, the team won 3 NJSIAA Central Jersey Group 3 Sectional Championships, 2 NJSIAA Group 3 State Championships, 1 Shore Conference Tournament, and 7 division titles, 6 in B-North and 1 in A-North. In the past 3 out of 4 years alone, Boro have won 3 division titles, 2 back-to-back B-North and the year after an A-North championship. On that team, two captains, Sophia Duffy and SarahGrace Johnson, went to play Division 1 soccer at Seton Hall University.
Although this year did not end like the past three seasons did, it was still a great effort from a team that lost eight influential seniors who were behind the success to last year's first A-North title in the school's soccer history. Playing to a 9-8-1 record, the girls fought their way into both Shore Conference and states in the middle of the pack before falling out in the first round of Shore and the second of states.  Something was just not there this season that was there in all of the other seasons. Nevertheless it was a great season for losing such invaluable pieces to a title-winning season.
Although it may have been a subpar season to some, the talent was still there, and this year, another two seniors will continue their soccer career in college at a Division I school, the highest college level athletic division in the nation. Emma Smith, the playmaking captain who made the team click the past three years, will be attending Texas Christian University in Fort Worth, Texas for college soccer. Jenna Huskey, a versatile captain who plays all over the field, will be attending St. John's University in Queens, New York. I got the chance to talk to both of them about this season, their high school soccer experience, and why they chose their respective colleges.
CW denotes Chris Wraback, ES denotes Emma Smith, JH denotes Jenna Huskey.
CW: This year was a rough season for your team. How would you describe the issues you saw this year that weren't an issue last year when you won the division?
JH: This year was the first year we didn't have the unbeatable defense we've always had. We weren't an awful defensive team but we lacked the defensive standouts we've had previous years. For example, I've been a primarily offensive player all of high school, and we had to put me at sweeper this year because we lacked the people for that position.
ES: Yeah, our entire backline had graduated so we had to put girls there that have never played those positions before and it definitely took a toll on the team's energy and vibe moving forward. We graduated a lot of seniors last year so this year we were basically playing with all new players and things just weren't connecting on the field.
CW: What was your favorite experience of this season? Your career?
JH: My favorite experience this season was how close this team is. We still have our group chat, and we're all still so close. That I think is really rare for a high school girls soccer team. But my favorite experience of my career was winning the division back to back to back. Going from B north to a much harder A north and being the under dogs and winning. Even though I didn't really play my junior year due to an injury, it was still amazing being a part of that team.
ES: For me, my favorite experience from this season would definitely be the team bonding nights that we had with all the girls. If there was something we accomplished this year it was how close we grew as a team, which was not the case for past seasons. There was no drama between us and it wasn't uncommon for me as a senior to have sleepovers and go out to eat with our freshman girls. As for on the field, the best moment was when I scored two goals back to back because my coach had told me I needed to shoot the ball at least five times because one of them would eventually go in, and she was right, as usual, but I loved the feeling of making her proud. During my high school career, my most cherished moment would be going into A-north for the first year and taking the title away from township – that I will remember for the rest of my life.
CW: What stood out when you chose the colleges you did? Why did that appeal to you?
JH: St. John's stood out to me because they had every major I had ever thought about taking. Right now I haven't decided between the majors I want to take but I won't have to decide now for a little bit longer. They also have an amazing team and coach. I feel comfortable talking to the coach and the coach actually just won Big East Coach of the Year, so that really pushed me towards SJU. When I went on my official visit they had everything ready that I could've possibly asked. If I wanted to talk to the dean of my intended major, it was no problem they would set that up for me, and that really made me feel like I was going to get the best education there. They won the big east this year and are headed into the NCAA tournament so I'm also really excited about the level of soccer I will be playing at.
ES: The college process for me was actually very long and difficult. I spent my days, hours, minutes on the phone with coaches and responding to emails. I knew I wanted to go down south in the warmth. Distance was not really an issue as all of my siblings went across the country. The only local school that I was in contact with was Columbia, other than that I would have to take a plane to go and visit. I had limited chances to impress the coaches of schools I was interested in because they were all so far and could only make certain games, so when I went out on the field during showcases, I had to perform at an elite level. What made Texas stand out was the fact that my father has work down there so I knew he would be visiting often. I fell in love with the campus as soon as I stepped foot on it. The girls all welcomed me into the locker room and treated me as if I was already a part of the team, plus the have an amazing football program and that was a key thing for me. It was a big ra-ra school and that is what I wanted. Not to mention, they play in the big 12 conference and that's one of the top 5 conferences in the NCAA.
About the Writer
Chris Wraback, Sports Editor
Chris Wraback, a junior at Freehold Boro, has been on the newspaper staff all three years, along with being the editor of the sports section for his second...