Red Dead Redemption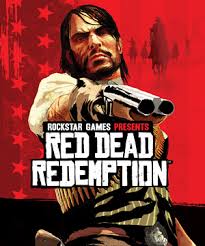 General Information
Title of Game: Red Dead Redemption
Developer: Rockstar Games
Genre(s): Action/Adventure
ESRB Rating: M (17 years or older)
Price Average: About $10 (Pre-Owned)
Available Platforms: Playstation 3 and Xbox 360
Plot Summary: The game begins in 1911, where John Marston, a former outlaw, is taken from his family by the Bureau of Investigation. They state Marston will be granted immunity if he brings the remaining members of his old gang to justice. Marston agrees and confronts one of his old gang members at a stronghold, only for the plan to run sour. Once the main character recovers, Marston performs various tasks and favours in exchange for their help with organizing an attack on the fort. Its up to the player to see through with the plan and complete the missions!
Overall Ratings
Graphics: ★★★★☆
Storyline: ★★★★☆
Audio/Voice Acting: ★★★★★
Mechanics/Controls: ★★★★☆
Conclusion
  Red Dead Redemption is by far one of my most prized video games. It was my first ps3 game and one that I enjoyed even years after I had first torn off that plastic from its case. Between the beautiful scenery and audio, it is a masterpiece. The dialogues and relationships between characters can be quite amusing and add a wonderful dynamic to this amazing video game. Even now I am in awe of the wonder that is RDR. The animals are all well modeled (including the humans of course) and there is little to no awkward errors in design. Of course there is a glitch here and there, but this game is pretty reliable.
Singleplayer is something to cherish in itself, including the many cheats that are easy to use in-game (and incredibly fun if you're feeling adventurous). Then there is also multiplayer, something every RDR player should explore. The mass amount of game modes are incredible, but you can also just free-roam with friends! There is something so entertaining watching your friends try to catch a train while riding a horse.
At times the storyline can seem a little unrealistic, but you can easily look past the small holes in the plot with the mass amount of side missions and landscapes.
This game is worth every cent that you pay. I hope you get to experience the same joy that I have playing Red Dead Redemption. If you do have this game or are interested in ones like it, there are two others made by Rockstar that are in this series called: Red Dead Revolver and Undead Nightmare. Both will have their own reviews shortly!
About the Contributor
Beverly Yow, Editor
Bev is a senior who loves video games, horses, and books. She enjoys the beauty of the outdoors, especially in the company of her dog. Beverly plays both...