Firewatch: A Video Game Review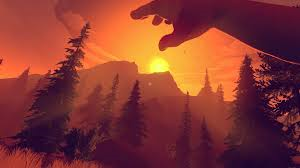 General Information
Title of Game: Firewatch
Developer(s): Campo Santo
Genre(s): Adventure game
ESRB Rating: Rated M (17 years old or older)
Price Average: About $15 – $20 (varies)
Available Platforms:  PlayStation 4, Microsoft Windows, Linux, and Mac OS
Plot Summary: Firewatch is a mystery set in the Wyoming wilderness where your only friend is the person on the other end of a handheld radio.
Overall Ratings
Graphics: ★★★★★
Storyline: ★★★☆☆
Audio/Voice Acting: ★★★★☆
Mechanics/Controls: ★★★☆☆
The game is set in the year is 1989. You play as a man named Henry who has retreated from his life to work as a fire lookout in the Wyoming wilderness. Perched atop a mountain, it's your job to find smoke and keep the wilderness safe.
But when something strange happens, you'll explore a wild and beautiful landscape and face questions that can completely change your gaming experience.
Conclusion
Firewatch is one of the most unique video games I have ever played. The art style is beautiful and original. The landscapes are breathtaking and never get old. I have always preferred realistic graphics over other styles, but this visual art opened my eyes to another realm. The graphics are beyond impressive, and so is the creative dialogue between the main character and his friend, Delilah. Their banter is both entertaining and immersive, allowing the player to enjoy a few laughs with the characters.
However, Firewatch does have its weaknesses. The storyline can seem a little unrealistic, and while that may be easily overlooked, it causes the player to have a more difficult time connecting to the game. In addition, the controls can be a little buggy and requires patience. I also found myself unsatisfied with the ending in a way that I felt it was rushed.
Still, Firewatch is a work of art that can offer anyone a unique and wonderful gaming experience. I recommend it to anyone willing to spend the 15 to 20 dollars on this game. Thanks for reading and I hope you enjoy Firewatch as much as I have!