Milk and Honey: A Review
Milk and Honey is one of those books of poems that you can consistently apply to so many different parts of your life. You have to take a moment to thank Rupi Kaur's mother for creating someone who puts our thoughts into beautiful words. This soulful masterpiece is something utterly relatable and raw. You get to feel all the emotions that Kaur once felt, feelings that allow you to reflect and ponder on the world around you.
In this journey through Kaur's life and, as you soon realize, many lives around you, you experience the hurting, the loving, the breaking and the healing – all of which are equally profound and heartfelt. Kaur reminds us of who we are, why we are that way and the beauty in being our true selves, as well as the right to feel anything. Through her words, you are uplifted in ways you can't describe – you feel a strong connection to your identity.
One of the most striking features of this text is the artwork – also manufactured by Kaur. She quite literally puts all of her feelings on the page, leaving readers in awe of the amount of emotion that must have went into making these poems. And unlike other books of poetry, there's no color. The black and white that fills each page, including the cover, serves as a powerful message of the reality of her experiences and how there's no sugarcoating the horrors, heartbreak and depression that comes with being human.
Not to mention, Milk and Honey addresses a plethora of current issues that many people don't usually feel comfortable discussing. Issues having to do with feminism and domestic violence are only a few of them. Other more common matters include having your heart broken, loneliness, and reaching that state of happiness that everyone wishes to achieve. And that's one of the main differences that sets this book apart from others – it is blunt. Kaur holds nothing back.
Keep in mind, this book is more for an older audience, but everyone has a stage in his or her life that can relate to a part of this poetry. Its universality and passion combine to form a work like none you've ever read before. It's a must read.
About the Writer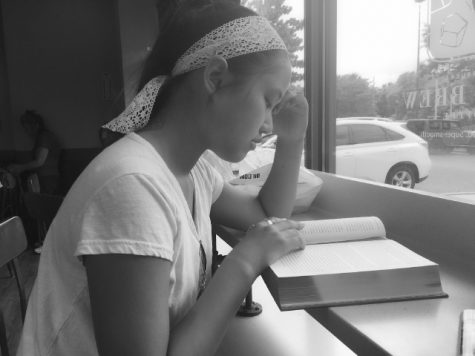 Janelle Hart, Staff Writer
Janelle is a junior at Freehold High School. She is an aspiring writer and french-fry enthusiast. She is excited to be participating in newspaper club...