Soccer or Football?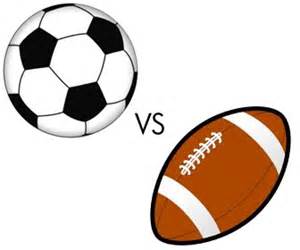 Soccer and football have both been a popular sport for a long time, but which of these two is the most popular? People have argued over and over and in various places, such as school hallways, the doctors office, church, parties, etc. Those arguments end now. First we have to identify the definition of popular. Popularity in sports comes from a combination of various factors such as the number of spectators, the number of registered participants, the number of national associations, the number of people that play the game, stadiums and facilities worldwide, and tournaments held all over. The NFL is not exactly fair in terms of teams considering they control how many are allowed to compete, where those teams can be located, and who can own those teams. Where as in soccer, anyone can form a professional soccer club regardless of who you are, what geographic location you intend to occupy, and how much money you have. If your club wins, you move up the divisional ladder, earning a promotion to stronger leagues with increased financial benefits. It's a simple meritocratic system: Win and move up to greener pastures, lose and move down to worse times. Football does have an up on soccer when it comes to scoring, it is true that in a football match there is way more points than there is in a soccer match. However, soccer makes a comeback in injuries, the NFL has way more injuries than soccer does. They are also a lot less painful than the ones that happen in football. Although football is close to the average of a professional soccer match, it is not close enough. Average attendance for a Barcelona match is 78,881 fans while in an average NFL game it is 68,400. In soccer (unlike the NFL) there is more than just one league to play in. Estimating over 300,000 clubs while the NFL only consist of 32 teams. Globally, there are a lot more soccer stadiums around the world than there are football stadiums. In soccer, there is also a lot more tournaments than the NFL. Statistically speaking, soccer is better than football in many ways. But people will always have their own opinion no matter what statistics say. So in the end the better sport is whichever you like.
About the Writer
Cristopher Poblano, Staff Writer


Cris is a sophomore at Freehold Borough High School. He loves being in the outdoors and always being active. He loves playing soccer and running....