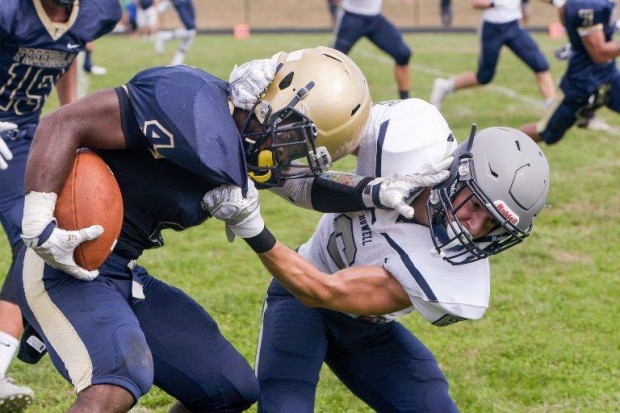 On Saturday, November 12th, 5th seeded Freehold Boro Football took on 4th seeded Pennsauken High School in the first round of the Central Jersey Group 4 State Tournament. It was played at Pennsauken High School, and it proved to be one of the Colonials' best games all season.
And in the state ever, in fact. The game was up and down scoring, each drive, led to a touchdown. The final score was 69-56 Freehold Boro, which was the highest amount of points scored in a game ever in NJSIAA history.
Part of that was because of one man. Ashante Worthy had a career day when he had 10 TOTAL TD, in which he rushed eight to the house, and added two dimes as well. Worthy threw for 71 yards and rushed for 465 on 43 carries. His total touchdown count in the last six games has now reached 34. The second leading scorer on the team went 9 for 9 on extra point attempts, sophomore Jake Hurler, and is now 29 for 30 on extra points for the season.
The usual rock-solid defense for Freehold Boro was lacking on the brisk day, however, as they could not stop Pennsauken running back Martin Booker. Booker had 40 carries for 376 yards and eight touchdowns.
The Boro go up against number one seed Brick Township on Friday, November 18 at 7:00pm.