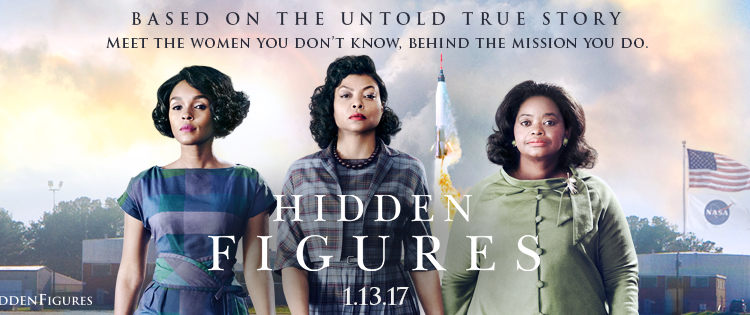 Hidden Figures has been a widely anticipated movie for the past couple months. Not only is it based on a true story, but also features critically acclaimed actors and actresses who have been in award-winning films and shows. Octavia Spencer, playing Dorothy Vaughan, has received countless awards for her acting, especially from the film The Help. Janelle Monáe, playing Mary Jackson, is a world famous musician, actress and model that has took part Moonlight, another recently successful film. And last but not least, Taraji P. Henson, playing Katherine Johnson, has been in a plethora of movies and shows, especially known for her recent role in Empire on Fox. These three successful women, along with many other stars, such as Kevin Costner, Kirsten Dunst, Glen Powell and The Big Bang Theory's Jim Parsons have worked together to create one feel good movie.
To give a bit of background, the film takes place in Hampton, Virginia in the early 1960s. The three African American women: Vaughan, Jackson and Johnson, are employees for NASA and help calculate the trajectories for Project Mercury. At the time, Virginia was still a segregated state, thus creating a few bumps in the road for the women as they try to keep a job and eventually help John Glenn become the first American to make a full orbit around the Earth. The hardships that the women face make their victories even greater and allow the film to tug at the heartstrings of their audience. With a bit of comedy, a bit of romance, a bit of drama, and a bit of math and science, this is the perfect family film.
Story-wise, the film is wholly entertaining and reflects on a great event in American history that has influenced us today. It teaches us the cultural conflict of the sixties, while demonstrating the utter struggle of being a NASA employee at the time. There was no math equation to calculate the complex trajectories at the time and segregation was alive and well, therefore putting the two issues together in this movie created a great story for people to watch. As someone who knows almost nothing about the history of NASA, it was a good learning experience.
On the other hand, the film had some weaknesses. There were some parts of the movie that could have been executed better, perhaps some that could have been cut out. I'm not saying that it was boring, but there were times when I casually looked around the theater because it felt extremely long. And maybe that's just me, but there was something about the passage of time in the film that was unsettling. Either it was moving too fast or too slow. And, obviously, the flow of the movie is one of the most important parts.
Regardless of the negatives, I recommend this film to literally anyone. It is something that is universal and funny and happy, thus you can't go wrong with it. It ended up getting two nominations at the 2017 Golden Globes and I expect it to be nominated for many other awards. It's that feel good film that lifts your spirits after a hard day. Go out and see Hidden Figures in theaters!