The Boro Falls Under Thursday Night Lights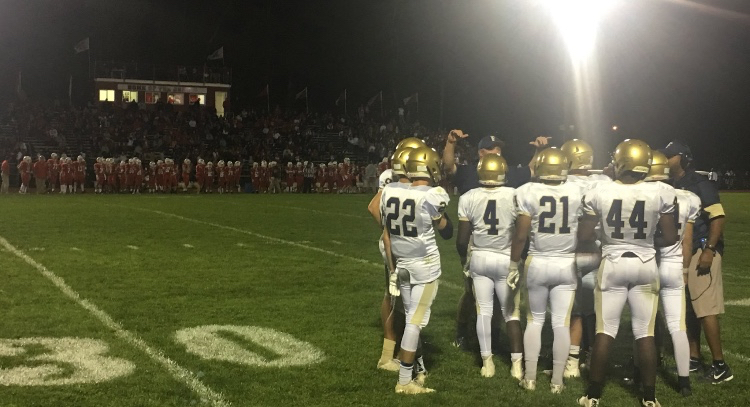 CJ Milano, Staff Writer
October 18, 2017
The Colonials are now 1-3 on the season, but Thursday's night's loss was no surprise. The Colonials played at Manalapan Thursday night because of the Jewish holiday of Yom Kippur that begun that Friday night.
The first half was quite a surprise for the Colonials as the managed to remain within striking distance. The score going into Manalapan's halftime show was 28-21, the Boro was only down by one score. Ashante Worthy was able to put together both a passing and a rushing touchdown early in the game, and then a long pass in the corner of the end zone to be able to go into the locker room only down by one score.
Manalapan's offense had over 680 all-purpose yards against the Boro, with Naim Mayfield leading the pack with four rushing touchdowns for 91 yards. Mayfield could not be stopped by the Boro, especially in the red zone. The running back was selected as the offensive player of the game Thursday night. Luke Corcione, the quarterback for the number one Shore Conference ranked team passed for over 200 yards and hardly saw the pressure of the Colonial line, Corcione had quite the arm making several long passes. The Boro's secondary was unable to compete with his accurate arm and the precision of the Braves' receivers who strung together two touchdowns on the night.
Freehold's defense kept the team in the game in the first half, but was unable to do the same in the second. Their inability to stop the big play overall led to the Colonial's demise, and in return, to the Braves' continuation of a lossless season.
Manalapan is a good team, and most likely the best team the Colonials will see during the regular season. The Braves are ranked 1 in the Shore Conference and top 10 in the state of New Jersey. In good news, Freehold fans put together a large student section- dressed in white and covered in white powder and flour. Do not forget the Boro was able to put 28 points on the scoreboard against the highly ranked team. Hopefully a better version of Coach Ellis' team will carry over into a non-divisional game against Monroe. Both teams head into that game with a record of 1-3 on the 2017 season.