Freehold Proves Unified Against Neptune High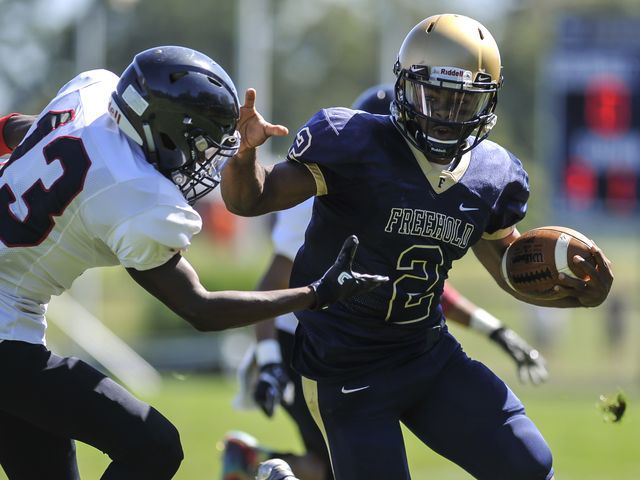 CJ Milano, Staff Writer
October 18, 2017
Before the game even began as all the Colonials stood in unison, and holding their own American flag during Mr. Gross' marching band's performance of the National Anthem. On the opposing side some players took a knee while others stood.
In the first quarter alone, the Colonials were able to put up 35 points on the board. Ashante ran in three of these touchdowns, and threw in the other two, one to Quincy Davis, the other to Savion Macon- both juniors. The Scarlet Fliers were unable to stop Freehold's fast-paced offense. The Boro's running game was on point and Worthy was even able to make a couple of completions for touchdowns after throwing away four last week against Howell.
When Neptune did have possession of the football, it wasn't for long. Freehold's special teams and defense were able to strip the ball, and forced fumbles to allow the Colonial offense to walk right back on the field and score some more. In the second quarter Worthy did throw one pick, but to no gain of the Scarlet Fliers who were unable to turn it into any points on the board.
After the Marching Colonials outstanding performance and the cheerleader's energetic halftime performance the Colonials marched back through the tunnel to put another 7 points on the board. Ahmad Dixon, a freshman wearing Worthy's old number 4 jersey ran the ball into the end zone from the line of scrimmage, about 35 yards away. The freshman was also awarded the offensive player of the game.
Jake Hurler, Freehold's kicker was flawless, not missing a PAT yet this season. He went 6/6 on Saturday, earning himself the special teams player of the game. All of his extra point attempts have been automatic and seem effortless for number 14 thus far.
As the third quarter came to an end, starters were given rest as second string, and JV players came out on the field. The new quarterback was Matt DaSilva, who along with running down the clock successfully, made an impressive run back of a long punt In the second, and brought in an interception in the third on defense. The senior had an overall outstanding performance as he made his presence known on all three teams.
Overall Saturday's day game was a sigh of relief for the Colonials- every part of the team looked strong. The team will need to stay that way as the Colonials play a Thursday game under the lights against number one rank Manalapan. The game will take place on Thursday because Yom Kippur will start sundown Friday and proceed through Saturday.