The Colonials Shoot Down the Eagles on their Home Field
Freehold Boro beats Edison 49-14 on Senior Day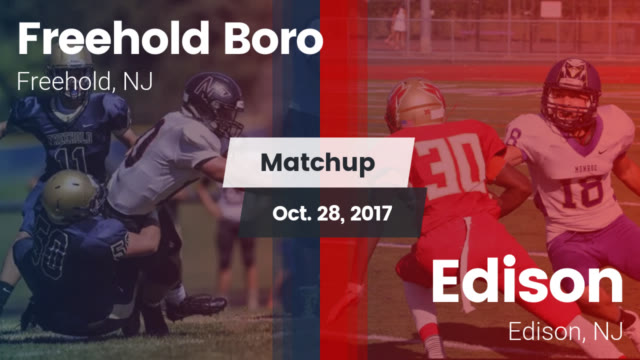 Saturday, October 21st was a bittersweet day for the Boro as it could be the last game they play at home this season. For seniors like Ashante Worthy, it could be the last time they step out on the field at the Cal Dean Wilson Athletic Facility. Regardless, the Boro walked off their home field in style- crushing the Edison Eagles.
Ashante Worthy did not throw the ball as well as he has in the past, but he didn't have to, as he carried the ball for himself into the end zone six times. And racked up 334 yards rushing, a season high. His longest run was 96 yards. Let's not act like he did nothing in the pocket- he threw one touchdown pass, an interception, for over 100 yards. That's over 400 yards in one game. The kid is a stud. No doubt about it. Worthy set the offense up extremely well, running in six, and throwing one to Savion Macon.
Jake Hurler went seven for seven and made it yet another perfect performance.
The Colonial defense did their job and shut down Edison, and limited the Eagles to just two touchdowns.
As cardboard cutouts on senior cheerleaders, football players, and Marching Colonials bobbed in the crowd, the Boro snatched their sixth win. This was probably their last game on the home field. With the win, Freehold moves into the playoffs with their eyes set to play at High Point Solutions Stadium- home of the Scarlet Knights. With next week's results against Long Branch, and with the results from other games throughout the conference the Colonials will find out who and where they play their first playoff game.
About the Writer
Christian Milano, Staff Writer
Christian Milano, better known as CJ is a senior at the Boro, but a rookie columnist for The Colonial. He is in the Culinary program, and is looking to...