Humans of Boro: Ilyssa Roseman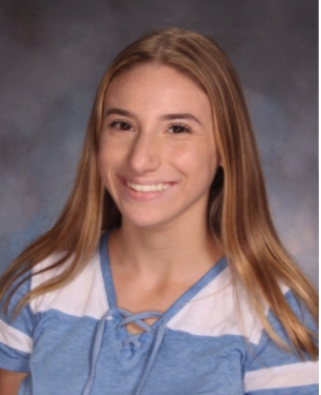 A Freehold Boro Junior, Ilyssa Roseman, shares a little bit about herself and her high school experience in this Humans of Boro interview. Ilyssa also reveals what it was like to have the role of Olive Green in the most recent drama production, Murder at Rundown Abbey, in which the entire cast gave an exceptional performance.
Tell me a little about yourself. What grade are you in and what do you want to study if you go on to college? What do you like to do in your free time?
Ilyssa: "I'm a junior right now and I want to pursue an early education teaching degree when I go to college. In my free time I take dance classes, volunteer around my community, read, and write novels."
2) If you could change one thing about Freehold Boro High School what would you change and why?
Ilyssa: "There really isn't anything I want to change, if I had to I would like to have a more interactive pep rally and make the students more involved to make them want to come out to games and support our teams."
3) Being a junior, are there any tips you would give to a freshman coming into Freehold Boro High School?
Ilyssa: "I would tell them to get involved in as many extracurriculars as possible and not be afraid to try new things. It's important to stay involved and take advantage of what Freehold Boro has to offer. More importantly, I would tell them to work hard and put in effort into their classes and stay true to who they are throughout their time in high school. Lastly, I would say that here at Freehold Boro we all have our differences, but at the end of the day we are one big family."
4) Is there any moment from your high school experience that stands out or is unforgettable?
Ilyssa: "To be honest, there have been many memorable moments here that I'll never forget. Like any high school experience you have heard, I've had my fair share of ups and downs. One moment I'll never forget was when I got into the play this year. The past 2 years I told myself I wouldn't make the cut and thought that I wasn't good enough. This year my best friend convinced me to try out, despite the fact that there was a lot of people auditioning and very few spots to fill. When I heard Ms. Sweeney reading the list of people who made it onto the show, I couldn't believe that I actually made the list! It was one the best experiences and I can't wait to continue to participate in the productions for now on."
5) I heard that in our school's recent play, Murder At Rundown Abbey, you played the role of Olive Green and that you and the rest of the drama club did a great job performing. Can you tell me a little bit about what it was like to be onstage? How did you feel when you were getting into character and preparing for the show?
Ilyssa: "When I was onstage, I was no longer Ilyssa Roseman, high school junior. I was Olive Green, a secretary from the 1920s. Since September, we have been rehearsing each scene, perfecting every single line and cue. One of the most tedious parts about being in any kind of production, besides having to memorize your whole part, is figuring out what you are going to look like. We spent hours on making sure that every hairstyle, costume, and makeup look was flawless. As the days flew by, it came time for tech week, which are the last few practices before the show where you run through the whole play, costume and all, over and over again. Before the show, the thought of performing in front of a large crowd along with the fear of messing up really scared me at first. But as soon as the lights went up for the first time on opening night, I just couldn't hide how excited and ready I was to act alongside the most talented cast I could ever ask for. The tech crew did an outstanding job with the lights and making sure every single prop was in its place. However, Murder at Rundown Abbey wouldn't be as much as a success without our amazing director, Ms. Sweeney. Overall, having a part in the musical this school year was one of the best decisions I have made and I can't wait for the next one!"
About the Writer
Donia Osman, Staff Writer
Donia Osman is a senior at Freehold High School who enjoys writing, shopping, spending time with friends and family, and trying new things. She writes...