Humans of Boro – Yearbook Art Department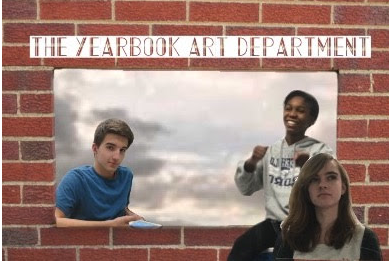 Q.1. How long have you been doing Yearbook?
BM: Since September of 9th grade
DJ: Since freshman year
AA: I started my sophomore year, so this is my second year.
Q.2. What made you want to join the art dept.?
BM: I just really like to make art
DJ: Mrs. Spiers asked me to, and I love art. It inspires me to do great things.
AA: Originally I was going to do Photography but Mrs Spiers was like, "Hey we need kids in art" and I said "Okay, I can help"
Q.3. How does art make you feel?
BM: Art makes me feel some type of way
DJ: Art makes me feel amazing. Art is the Jasmine to my Aladdin. It brings me joy, life, and inspiration to my being.
AA: I love the feeling I get when I see my drawing in the yearbook and art is fun
Q.4. What's the best part of Yearbook?
BM: The friendships you make along the way
DJ: The people I've met and the experiences I've had
AA:  The Art Dept. we're the best part.
Q.5. If you weren't in art, what section would you be a part of?
BM: I would've been in photography because it's also artistic
DJ: Sports. I love sports
AA: I would've been in photography
Q.6. If you had to convince someone to join Yearbook, what would you tell them?
BM: If you want to join a club that means something is, yearbook the place to go because it's a big part of the school.
DJ: I'd tell them it's fun. It's so fun
AA: I would say that you should join because it's a great community where you can make friends
About the Writer
Renatta Ceppi, Staff Writer
Renatta Ceppi is a Sophomore at Freehold Boro High School. She enjoys reading and listening to music in her free time. This is her first year writing for...