Freehold Boro Team Finishes in 2nd Place at Consumer Bowl Competition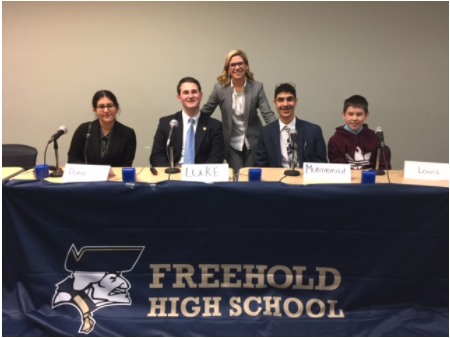 The New Jersey High School Consumer Bowl is a competition in which high school students are tested on their knowledge on Consumer Affairs. Made in 1977, the competition engages young students into learning about all of the meticulous rules and guidelines associated with being a consumer, which every consumer should know. Our school, in this past 2018 competition, was able to achieve success against three other New Jersey High Schools. This success led the team into the Finals. It was in this round of the competition that they came in second place to Freehold Township by 2nd place. All in all, our school's team may not have won first place, but, the information gained concerning Consumer Affairs is priceless and worth the hours of studying. Pictured above from left to right is Donia Osman (me), Luke Collier, Mrs. Swan, Muhammed Abouomar, and Louis Gartz. If you would like to compete in this competition next year, contact Mrs. Swan!
About the Writer
Donia Osman, Staff Writer
Donia Osman is a senior at Freehold High School who enjoys writing, shopping, spending time with friends and family, and trying new things. She writes...