Busy In the Five Star Cafe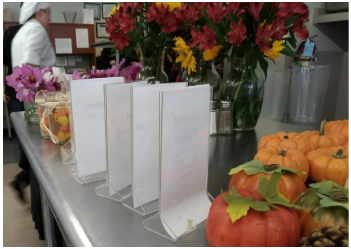 The Five Star Cafe at Freehold High School officially opened its doors to the public on November 12. Generally, the cafe is open three times a week. Culinary students and chefs are busy working in the kitchen, bake shop, dining room, and on advertising for its customers and guests.  
     Several events take place behind the Five Star's doors. One of the most exciting events every year is the visit of educators from Taiwan!
     In October, Taipei students and teachers filled their stomachs with meals made by the chefs and culinary students. Not only that, a new occasion was added to the Five Star: On November 13 to November 14, incoming 8th graders applying to the Culinary Academy will have breakfast with its students, chefs, and educators. 8th graders are welcomed to ask questions, discuss with, and meet students and chefs in the program.
     Students in the Culinary Program are busy with several tasks while the cafe is opened. For instance, the bake shop is packed with Sophomores, Juniors, and Seniors who are baking goods for the cafe and other fundraisers. Freshman culinary students are learning the basic skills of dining, menuing, and cooking led by the chefs and seniors of the program. Seniors are occupied with aiding the freshman, menu-planning, cooking meals for customers, and more. Chefs Zarafana, Lee, and Malbari have their schedules loaded with lessons for their students, special events, meetings, and so on.
     The opening of the Five Star Cafe is an exciting and an enormous part of both the Culinary Academy and customers. Come visit the Five Star anytime it is opened!!
About the Writer
Hanah Li, Writer
Hanah is a sophomore in the FHS Culinary Academy who enjoys watching (childhood) cartoons, anime, memes, and making stuffed toys as leisure. Her current...