Thanksgiving Recipes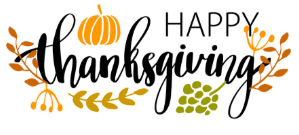 Hannah Cohen
November 20, 2018
Thanksgiving is coming and it's time to reflect and be thankful. It's also the time to eat a ton of food! Here are 3 easy Thanksgiving recipes that I hope you'll enjoy:
Main Course – Herb Roasted Turkey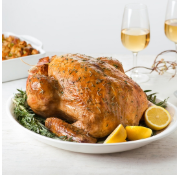 Ingredients
     12 pound turkey                                                          
    ¾ cup of olive oil  
    2 tbs of garlic powder
    2 tsp of dried basil                         
    1 tsp of ground sage
    1 tsp of salt                                             
    ½ tsp of black pepper
    2 cups of water
Directions
For this dish, you would prep for 15 minutes, cook for 3 hours and 30 minutes, and it will all be ready in about 4 hours and 15 minutes!
Preheat oven to 325 degrees and put the turkey in a roasting pan with the lid on.

In a small bowl, mix olive oil, garlic powder, dried basil, ground sage, salt and black pepper. Apply the mixture all over the outside of the turkey with a basting brush then pour water onto the bottom of the pan.

Bake for 3 to 3 1/2 hours, or until the internal temperature of the thickest part of the thigh measures 180 degrees Fahrenheit. Remove the turkey from oven, and allow to stand for about 30 minutes before carving.
Side – Sweet potato casserole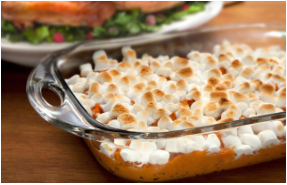 Ingredients                                                                               
     6 sweet potatoes, peeled and cut into chunks
     1 cup of white sugar
     ½ cup of brown sugar
     2 tbs of ground cinnamon                                                            
     1 tbs of softened butter
     Marshmallows
Directions
For this side dish, you would prep for 10 minutes, cook for 50 minutes, and it will be ready in about an hour.
Preheat oven to 375 degrees Fahrenheit . Grease a deep casserole dish with butter.

Place sweet potatoes in a large pot and cover with salted water, bringing it to a boil. Reduce heat to medium-low and simmer until tender(about 20 minutes) and drain.

Mash potatoes with a potato masher in a bowl until no large lumps remain. Stir white sugar, brown sugar, cinnamon, and butter into the mashed sweet potatoes; transfer to prepared casserole dish. Cover sweet potato mixture with a layer of miniature marshmallows.

Bake in preheated oven until marshmallows are browned, about 30 minutes
Dessert – Apple pie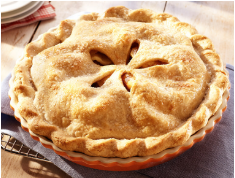 Ingredients
     6 tbs of unsalted butter
     ¼ cup of white sugar
     ½ cup of brown sugar
     1 pinch of salt
     ¼ tsp of ground cinnamon
     ¼ cup of water
     1 package of double crust ready-to-use pie crust
     4 large thinly sliced and cored apples
Directions
To make an apple pie, the prep time will be 30 minutes, the cook time will be 50 minutes, and it will be ready in about 2 hours and 20 minutes.
Preheat oven to 425 degrees Fahrenheit.

Melt butter in saucepan over medium heat. Stir in white sugar, brown sugar, salt, cinnamon, and water. Bring the syrup to a boil, stirring constantly to dissolve sugar, then remove from heat.

Put pie crust into a 9-inch pie dish, and place the apples into the crust. Put second crust on a work surface, and cut into about 8 1-inch wide strips. Criss-cross the strips over the apples, or weave into a lattice crust. Crimp the bottom crust over the lattice strips with your fingers. Spoon caramel sauce over pie, covering lattice portion of top crust; let remaining sauce drizzle through the crust.

Bake in preheated oven for 15 minutes. Reduce heat to 350 degrees F , and bake until the crust is golden brown, the caramel on the top crust is set, and the apple filling is bubbling, 35 to 40 more minutes. Allow to cool completely before slicing.
Have a Happy Thanksgiving!!