FHS Raises Over $1,000 Through Annual Empty Bowls Event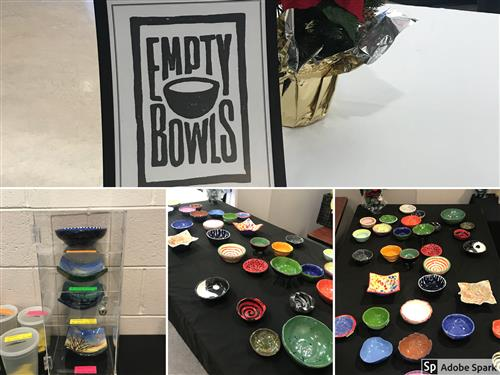 Every year, students and teachers alike come together to support Fulfill Monmouth & Ocean County, a local food bank. Two different talents and art forms collide to produce this well anticipated and fun event: art and culinary. For this event, students create colorful clay bowls in their art classes, while culinary students cook the soups that are served in them. The art students are extremely gifted as shown by the amazing artwork that is seen around the school, the artwork painted downtown every year around Halloween—also known as the Spooktacular—and, simply, the general focus our school seems to hold to art. The culinary students are also just as skilled as they maintain the Five Star Cafe and are trained in many aspects of cooking and hospitality. Many different kinds of soups were made for the event, such as cream of mushroom, mulligatawny, black bean, Jersey tomato, split pea, minestrone, corn chowder, and chicken noodle. In the end, exactly $1,100 was raised towards the food bank, which will be of great help to those of need. This event simply showcases Boro's ability to come together to support a cause and showcase some of our many talents.
About the Writer
Donia Osman, Staff Writer
Donia Osman is a senior at Freehold High School who enjoys writing, shopping, spending time with friends and family, and trying new things. She writes...