"The Laughing Man" by J.D. Salinger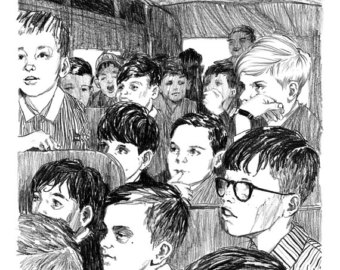 We all know J.D. Salinger as the author of The Catcher in the Rye, but his other amazing pieces are often overlooked. "The Laughing Man" is one of those stories, originally published in The New Yorker in 1949, before becoming part of his short story collection, Nine Stories.
"The Laughing Man" is the story of an unnamed narrator looking back on his youth in 1928, when he used to participate in an afternoon baseball club called the "Comanche Club." The narrator does not remember the outings or the games that he played, but vividly remembers the stories of John Gedsudski, known to the kids as "The Chief." The stories are about "The Laughing Man", a person who is kidnapped and turned into an ugly beast, before becoming a crime­fighting hero. Later on, it is revealed that the Chief has been telling his own story through the narrative of "The Laughing Man," after he and his girlfriend have a fight, and the final installment ends with the death of the character.
After reading "The Laughing Man," I saw Salinger's ability to write diverse characters regardless of gender, age, and social status, and I was pleasantly surprised by how much I enjoyed the story. Salinger's prose is vivid and real; it makes you root for "The Laughing Man" even though you understand that he is not the good guy. He touches on subjects like relationships and mortality in a unique, abstract manner, and truly makes you think about the ties between reality and fantasy.