Track Review: "Pure Comedy" – Father John Misty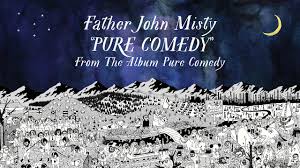 Josh Tillman has never been one to hold back his opinion. Oftentimes, his extravagantly orchestrated, potently worded songs are jam-packed with social commentary and criticism of love and politics. Even outside of music, the artist better known as Father John Misty has a history of voicing strong political positions and vehement social criticism. So, in a time of such global turmoil over a certain election along with other events, it is not a surprise Tillman has decided to put his own take on things into song. Floating in with a tidal wave of disgruntled noise from similarly liberal artists, Misty's lead single to his upcoming album of the same name distinguishes itself as perhaps the best.
Misty brings the same lyrical mastery, theatrical instrumentation, and effortlessly folky vocals of his previous projects. However, the satire that usually buffers the sternness of his words has been, for the most part, removed. Tillman, who has previously included a laugh track over a live performance of his own song, "Bored in the U.S.A." has appeared to go completely serious. Although there is still a strong undertone of sarcasm, a message of solemn unrest is clear to see. But Misty does not stop at denouncing contemporary politics, he goes on to attack the self-important, animalistic nature of man, concepts of religion, and culture.
With his latest effort, Misty has captured the frustration of an already insatiable generation faced with the largest looming insecurity of this century. And interestingly enough, it was written before the election even came to its tumultuous end in November. Yet, this is only one song from a whole album leaving the question of how Tillman will follow it up. Sonic quality is not a concern with such a consistently excellent songwriter but how will he draw out insight more reverberant than that which he has already exhibited? Such questions will just have to be answered when Pure Comedy is released on April 7th.