Friendsgiving 2021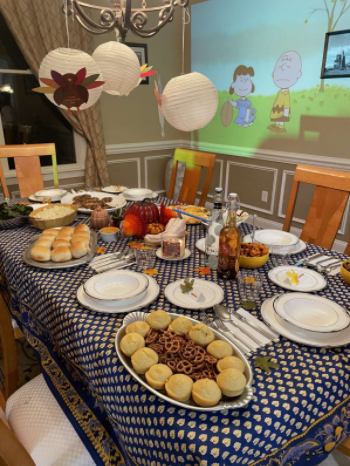 Typically celebrated the weekend before Thanksgiving, Friendsgiving is an opportunity for friends to join together for the holidays and share a meal. While Thanksgiving is designated for family, Friendsgiving is a calmer occasion where expectations are low and the joy is high. 
Friendsgiving is traditionally informal, simply, a gathering of friends to feast together and celebrate the season of giving. While some groups indulge in takeaways, this event often includes each guest bringing some sort of dish; for example, it could be a collection of sides like mashed potatoes, rolls, and vegetables, or, in some cases, even a full turkey or chicken. Homemade desserts are also quite popular, and Friendsgiving provides an occasion to cook for friends. 
The event has taken off in the past few years; Friendsgiving has become increasingly popular since its debut in 2008, becoming a full-fledged holiday that many spend weeks planning for. The meal has also become, occasionally, more formal as well. Some groups choose a relaxed approach, while others enjoy dressing up for the holiday. This year's event has become so popular that it was trending on Twitter all weekend long prior to Thanksgiving. 
After hosting Friendsgiving for the first time this year, I can say that it is absolutely worth the effort. The chance to have a homemade meal with a bunch of friends and share something each of you all made? You can count me in from here on out! It's an amazing time to bond and catch up with friends– not to mention, having a meal together is one of the best ways for people to come together. Food has often brought people together, and Friendsgiving is the perfect way to take advantage of this opportunity. After taking a slightly more formal approach to Friendsgiving as well, it's lots of fun to dress up and host your closest friends. Not to mention, it's the perfect time to watch classics such as A Charlie Brown Thanksgiving or enjoy recent shows such as "Thanksgiving of Horror" (The Simpsons TV special episode).
The holidays may be more focused on the family, but friendship can play just as an important part, too. Spending time with the ones you choose to be closest with is a gift, and Friendsgiving is an amazing opportunity to come together and share the joy before Thanksgiving.