Top 5 Things To Do in Fall
Fall: It's the season where it can be freezing in the morning, and 80 degrees in the afternoon. The leaves are crunchy, and turning the orange-red color that everyone seems to love. Face the facts: people love Fall. So, here are some fun things to do in the fall season.
Go Pumpkin Picking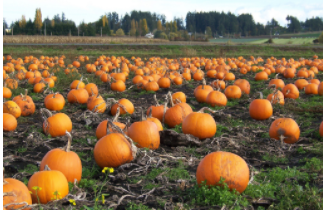 Pumpkins are essential to being ready for the season. Halloween? Jack O Lanterns. Thanksgiving? Fancy decorations. Think of all the possibilities! You can take cool pictures, paint them, carve them, or put them on your front porch. They can spruce up any house's aesthetic, making it instantly more festive.
2. Go on a Haunted Hayride
Hayrides can go hand in hand with pumpkin picking, but can also be two unrelated things. To get into the spooky season, go on a hayride. Most farms (with pumpkins) have them, so you could kill two birds with one stone, if you wanted to.
3. Dress for the Season!
Okay, I'll admit, this one is relatively easy, but can still be fun. Buy a flannel. They come in just about every color there is (red and black is a personal favorite, but choose your preference) and can make you seem like you really love the brisk season. Wear some thick socks, your feet will thank you later. Put on a hat if you want, and there you have it! Instant fall vibes.
4. Go to a Football Game
I don't follow the football schedule too closely, but it seems that football games are pretty frequent here at Boro. The Homecoming Game is this Saturday (October 21), which, if you don't usually go to games, is a good one to go to. This isn't necessarily the most fall thing out there, but they are still fun to go to. Ask a few friends, and have a great time!
5. Take a Nature Walk
As I said before, the leaves are changing colors. Rather than seeing them in a pile at the end of your driveway, see them in their mostly pure form: in the forest. The view is picturesque, looking almost fake. Trust me, it's amazing.
There you have it. 5 fun things to do for fall. Have some fun! It's only fall for a little while, before it gets too cold. Besides, if all else fails, staying inside with some blankets watching (possibly spooky) movies all day works, too.