Humans of Boro: Keshav Muralidharan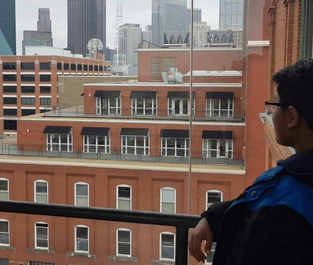 One staff member from The Colonial spoke with FHS's Keshav Muralidharan. He is part of the Medical Sciences program and is a fan of Grey's Anatomy.
Tell me a little about yourself. Who are you, what grade are you in, and what's one thing about you that not many ppl know about? I am Keshav Muralidharan, and I am a junior in MedSci. I don't think that there's anything about me that I don't tell people about? But, I do really like to do community service, play violin, and sing; I often try to do all three things at the same time.
Speaking of junior year, what has been your best memory/experience so far at the boro? For just junior year or in every year? In general, like within your years in high school. I think my favorite memory at boro definitely has to be the Lead for Diversity (LFD) assemblies. I really like those assemblies and how everyone just gets pumped up in the audience, it's just so funny!
What do you do in your free time? Like I said before, I play violin and sing. I perform around once every two weeks or so in digital concerts for the pandemic. It's all digital. I do this type of singing called "Carnatic music," which is this south Asian classical music- Indian music, essentially- and it's like devotional music, and I do one-and-a-half-hour performances. It's honestly a lot of fun! I also volunteer at my local temple where I organize cultural events with them, volunteer at their soup kitchen, and teach this scripture class. So, yeah, I'm really involved there. I have my own non-profit, RaiseFor, and I enjoy reading books about neuroscience and genetics. Oh, I also loooveee Grey's Anatomy. I've seen the show at least ten times!
What do you like the most about the Boro? I like how everyone here is really nice! I remember thinking that when you go into high school, you think everyone is mean or that there's this entire hierarchy thing where everyone is so segregated and mean to each other because that is the case with a lot of high schools: bullying is a humongous problem everywhere. But I feel like at our high school, that isn't much of a problem, or, at least to me, that hasn't happened. I have friends who are on the football team, the wrestling team, as well as people in CompSci and MedSci. I also have friends who are in the music department, so I feel like boro is like a "melting pot." Everyone's so nice to everyone, and I really love that about our school!

.

Keshav's non-profit organization, RaiseFor, is currently conducting Raise For Help, a six-week concert series fundraiser. All proceeds go to HELP Foundation, an organization that sponsors the education of orphans and funds orphanages in India. The concert series runs from December 20th to January 30th this winter. For more information, please visit his website, https://raisefor.wixsite.com/helpseries.

.