Tribute to the Jewell Dynasty: An Interview with Principal Jewell
July 1 of 2005, Linda Jewell came home. From 1972 all through 1988, she taught in the Freehold Boro school district, followed by 14 years in the Freehold Regional High School District as a Supervisor of Extra-Curricular Activities and supervisor at the adult high school, GED program and community education school. Then, the assistant principal at Freehold Township High School for 4 years, and as the penultimate stop on her odyssey, the principal at Jackson Memorial High School from 2001 through 2005. Beginning the 2005/06 school year, Linda Jewell was back at her alma mater but not just as any part of the staff, as the Principal. Her homecoming and principalship was just another notch in her legacy at Freehold High School, as it wasn't just her own high school, but also that of much of her family and, even more, the school to her own neighborhood, Freehold Boro, where she is very involved in her community. Now though, Jewell will be stepping back from her position and into retirement after 15 years of dedicated service and limitless contributions to the school. I asked to meet with her via Google Meet to talk about her feelings on the matter, her time at the school and her future. Here is our conversation:
Sage Fusco: My first question is what was your first thought when you were hired as a high school principal? Was it what you wanted to do?
Linda Jewell: You know sometimes you're not really sure what you're in for. So my job, my first principalship, was not here, it was in a school in Ocean County. And I was- You really don't know what a job is all about until you sit the chair. So, I would say that I probably did my "teething" in another school in another county, so, then when the opportunity came up to come back to Freehold Regional [High School District]一cause I left here I was the assistant principal at Freehold Township [High School] and the SECA (Supervisor of Extra-Curricular Activities) at Freehold Township [High School]一when I came back I was much more comfortable. I knew, first of all, what it meant to be a high school principal and, secondly, I knew the district. And- And I really knew this school because it's where I graduated.
SF: Oh, so you went here [Freehold Boro High School]?
LJ: I went here, my mom went here, my dad went here, my five brothers and sisters went here, 2 two of my brother-in-laws went here, and my daughter went here.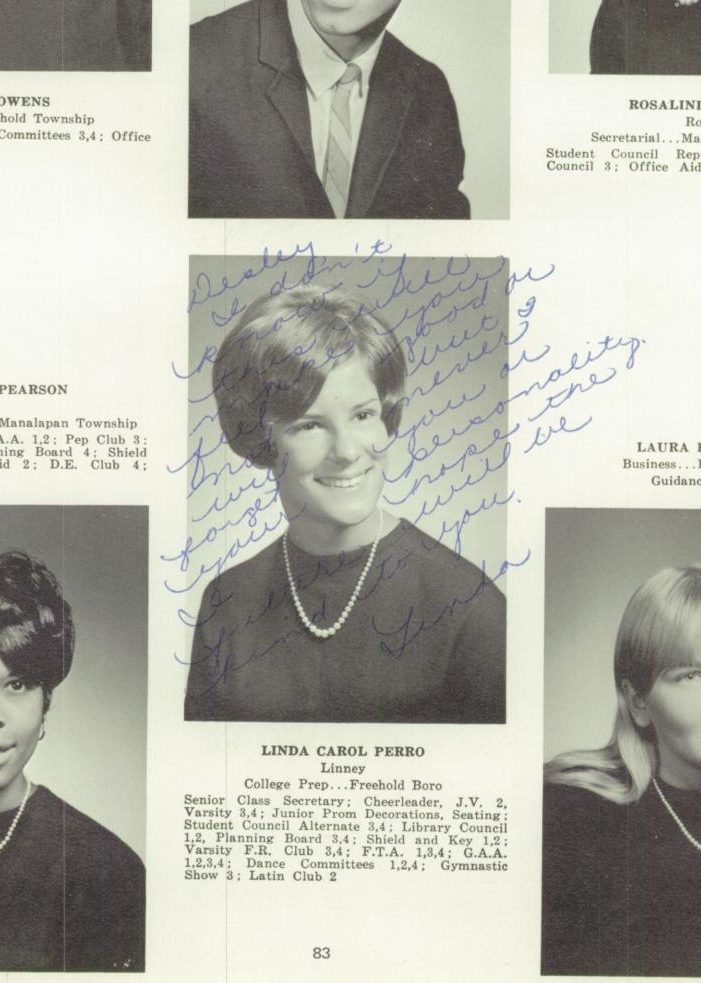 SF: That is amazing.
LJ: Isn't that amazing? Yes! That is an amazing story… yeah.
SF: So what class were you a part of? Class of…
LJ: 1968! We celebrated our一let's see I guess two years ago, yeah, two plus years almost coming on 3一we celebrated our 50th class reunion. And what was really fun is that- So the party was gonna be at the American Hotel on a Saturday night, and that Satur-day I was able to take, I guess about 15 of my previous classmates showed up, and I took them on a tour of the building. And you can't believe they were like: "Thats where my locker was," and "That's where misses so-and-so's class was," and "I loved her class," and oh I thought it would be like a 45 minute tour. Two and a half hours later, we ended up in the auditorium in a Q-and-A session. So that was a lot of fun for me.
SF: So was there any overlap with you and Bruce Springsteen then?
LJ: He was a year ahead of me. Now, I will tell you that story. He was, um, through the eyes of a teenager, we probably would have said that he was a little eccentric, but, we knew intuitively there was something about him. And almost once a month we would have dances in the gym where he and the members of the band, The Castiles, would play on a Friday night or Saturday night and we knew there was something special about him. So yes it overlapped.
SF: So my next question is: Is this where you thought your life would take you?
LJ: I don't think anybody really knows. If I had been in highschool- If someone had said to me when I was in highschool: "Your going to end up being principal of this school." I- I- I would've done a, "ugh..yeah..yeah..okay?" I think the great thing about going into adulthood is that you might have a passion, but you're not quite sure what that passion is going to look like every five or ten years. I always knew I wanted to be in education. I always knew that. But, there were a lot of twists and turns in that career. I started out with the little ones. I taught first grade, third grade in Freehold Boro, then I went to Freehold Intermediate [School] and taught there. Then I left and came to the Regional Districts [FRHSD]. Then I was a Student Assistant Counselor. I then was the SECA, Supervisor of Extra-Curricular Activities. Then Assistant Principal, then Principal. So my big umbrella has always been education, but with variations under that umbrella. And I think that's why it never- it never got stale, it never got old. I was always into different facets of education.
SF: So you've enjoyed it?
LJ: Next to my family一which always came first一it has- it has been a wonderful, wonderful journey and my retirement is bittersweet. Ugh.. But it is- It is a job that I find the older that I've gotten一like the last year or so一you get tired more easily. And I want to be able to do the job the way it should be done. I want to go to the football game and the play, and I want to have a PTSO meeting and, I want to do and I want to do and I want to do. And ugh, the mind is willing but the body says: "Listen sister, you can't do this anymore." And that's when you know it's time. I want to spend more time especially with my grandkids. The last 8 months has been challenging; we haven't been able to get together and once the vaccine comes out and I can lead a more normal life, that's where I fully intend to spend my time一having them over my house, babysitting them there, going on trips, that kind of thing. So I'm looking forward to that.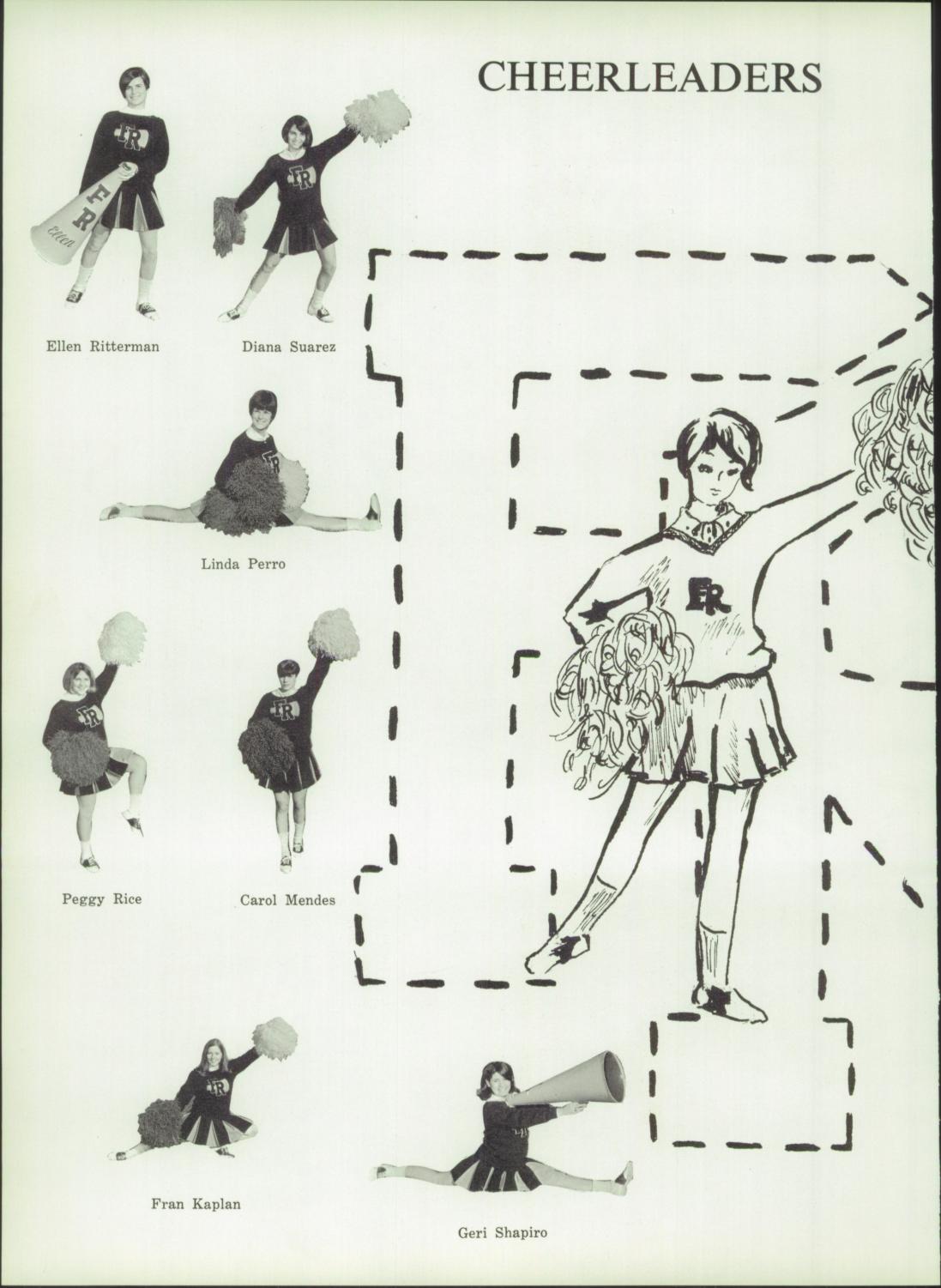 SF: How many grandchildren do you have?
LJ: I have four. I have two children, and they each have two children. So I have an 8 year old, 7 year old, 6 year old and 4 year old. They're young.
SF: That is the best! You get to see them grow up.
LJ: I do!
SF: Everything is yet to come.
LJ: Yes it is.
SF: Now a tough question here for you: What is your favorite memory from Freehold Boro High School?
LJ: It's a collective memory: every graduation. Every single one. When we come down the path and- and you hear the band playing Pomp and Circumstance, and as we come into the stadium fields, and I look at all the kids, all the graduates, ahead of me一because im at the end of the line一and the stadium comes alive with cheering. It's- It's a spectacle. It's awesome and I look at the faces and I think wow, we managed to give you the support so that you are actually graduating. Or I look at the Valedictorian and Salutatorian and I wonder what amazing things are in store for them. But mostly, that is the collective experience that- that evening in late june when there they are 348..352.. kids and and they're kind of launching now and I think the teachers, myself, the other administrators, the supervisors we all- the advisors to different activities, the coaches and, certainly, the parents and guardians- We all had a hand in their success and the public recognition of that evening of their success.
SF: So it's a little bit of a pat on the back for you and it's also great to just see them.
LJ: Just to the see them! And you know, not so much a pat on the back for me; I think the important thing is a pat on the back for this school because I feel一I know it's a cliche when people say were like a family but, unless you really live the experience of the Boro, I don't think you really understand what that means. So that night, that symbolically is the effort of so many different people and it is a pat on the back for so many different people involved. You know I'm just one cog in the wheel, and when I say that I'm not being like a martyr, but, I am [just one cog in the wheel]. If the custodians didn't keep the buildings clean, if the groundsmen didn't keep the outside spiffed up, if the cafeteria ladies were mean and nasty, if I had crumby teachers, if the coaches didn't care, if the advisors couldn't be bothered, this place would be horrible. But you know it- it kind of is that it takes a village. That's why we are, because everybody who comes through here, they embrace the Boro philosophy.
SF: So that will bring me right into my next question. What do you think makes Boro so special? And how does it compare to the other schools you've taught at and seen?
LJ: All schools have their own attributes and their own personality. I think that when people- Your personifying an institution, yeah I am. And every school that I have taught at had takeaways that were very special. The thing about the boro is, number one, it's size by comparison to some of our sister schools, that are so much larger. Ugh- I say this a lot and you may have heard me say it. A lot of people will say: "Oh were the melting pot." I- I don't like to be considered a melting pot. A melting pot, in my mind, the visual is that you dump everything in and it comes out looking kind of homogenous. In my mind, we are a tapestry. And the threads to that tapestry contribute to this beautiful vibrant kind of work of art. I equate who we are with a tapestry and all these different threads that are woven into an entity that is very vibrant. It is very alive, it is very special and we applaud that. And I think that's what separates- the diversity is what separates this school, probably more so than our sister schools.
SF: I like that. A tapestry. I'll have to explain that to people now: that we are a tapestry.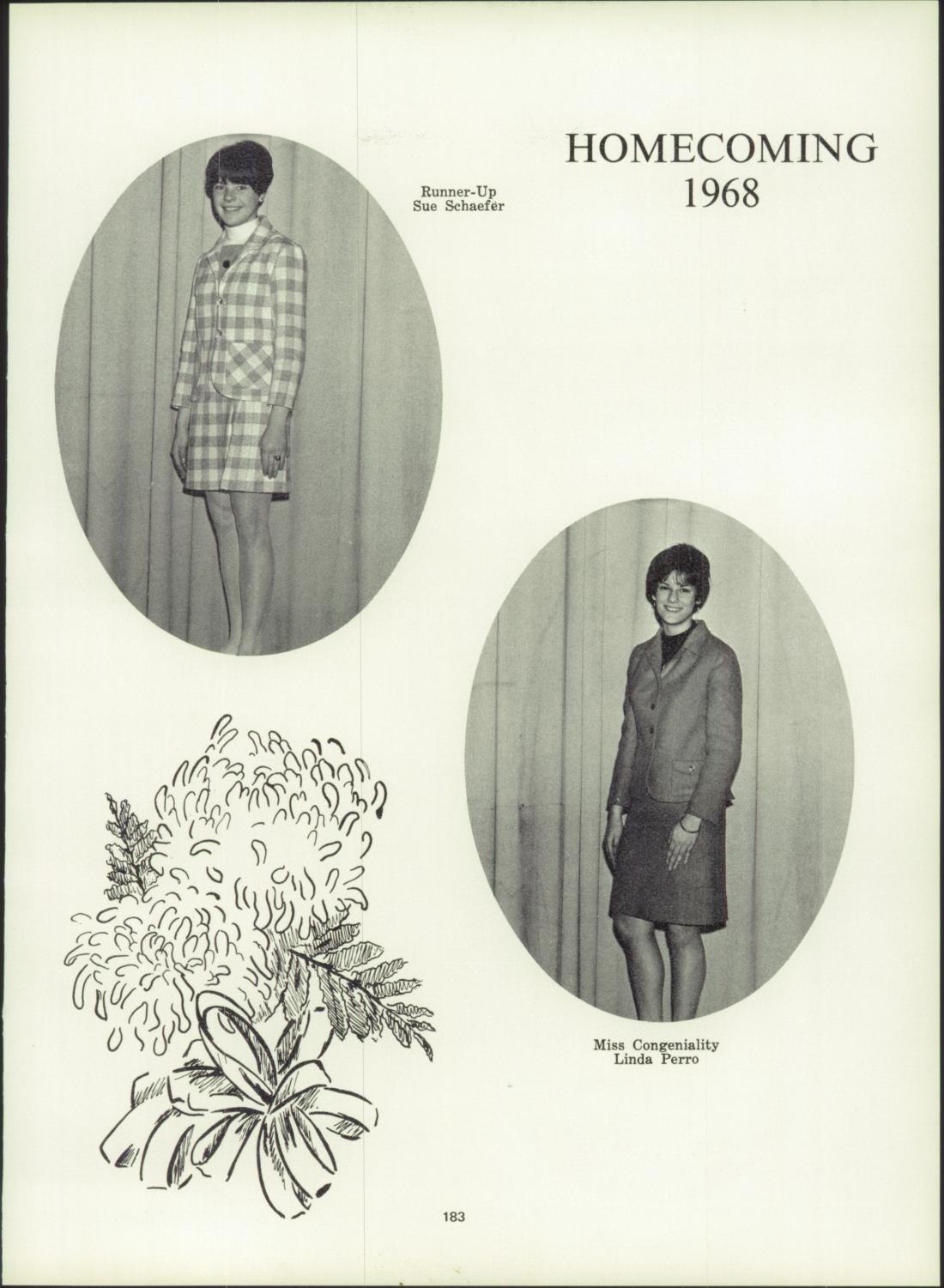 LJ: We're a tapestry.
SF: Ok what is one piece of advice you have after being in high school long after your designated 4 years? I mean you have been here for decades.
LJ: I say to the freshman when they're sitting in the auditorium on a late August and, you know they're a little bit anxious, their not the big fish anymore, and they're coming into high school- "High school oh my goodness, high school!" And what I say to them is to embrace opportunity. High school is a time for students to try a little bit of this and a little bit of that, both academically as well as extracurricularly. So go for that reach course. Don't play it safe. If you've got a passion for something take an art course, take a course in technology. If you want to know academically, "Oh I'm not quite sure," take an honors course, or eventually take an AP course. You know um- if you have a passion for acting take a deep breath and go for try outs. What's the worst that can happen? The worst that can happen is you don't make it. So what? So what? I try to preach to them I一and it's really not preaching its really solid advice一take some risks. Take calculated risks, both in your studies and what your going to do in the second half of the day. Because if you just do the academics you'll get a great education. We are Freehold Regional High School District. It's a great, great district, but if you get on that bus at 2 o'clock and that's all you do, you're missing out on the whole other side of high school. I had a ball in high school. We did so many things. I studied hard, I took honors courses一we didn't have as many AP offerings back then as you kids do now, but一I also did a lot of great stuff at the end of the day and even managed to work as well. So, if you're organized you can kind of do a bunch of different things and have a ball doing it. And that's my advice to them.
SF: That just perfectly demonstrates our school and how if you just take the risks it really can be so much fun. I've definitely experienced that here and I'm a senior now so it is all very exciting. 
LJ: I think that, also, kids come into high school thinking that their friends from middle school are going to be their friends in high school. And sometimes that happens, but more often than not, not really they don't become your best friends anymore. And where you branch out is by kids getting themselves involved in the second half of the day, because now you are with kids who share a common interest. And so, you, kind of, branch out from those elementary/middle school friends to high school friends who share your love of being on the newspaper or the yearbook or whatever it might be drama or the art club or..or..or. And that's where you make other connections and that's kind of what I have learned. And I try to impart that on other kids and each class that comes in and, regretfully, we weren't able to do that: our orientation this year had to be virtual and it was good, but it wasn't the same. It wasn't me standing in front of them and making that connection and them really being asked questions that I could answer. And it was definitely different and definitely challenging.
SF: Yes definitely different and challenging. Very different, very challenging. But I think we're all somewhat getting the hang of it, hopefully.
LJ: Well I am hoping that things open up a little bit so that we can have a prom and we can have a graduation, not that I will be here, but so that we can go to Frog Bridge for the class trip. I'm hoping, fingers-crossed, that the pandemic will dissipate and dissipate and maybe the vaccine will have an impact on it. I just want the Class of 2021 to experience those very traditional senior year celebrations.
SF: Yes, we are very hopeful!
LJ: Yes! Fingers crossed!
SF: So will we still see you around? Will you show up at football games when they are not closed off anymore?
LJ: Well, you know, I'm a little conflicted by that. I'll always keep tabs on what is going on, always, but the torch will be passed to a new principal and that person, he or she一because I don't know who it's going to be yet一has to chart their own territory and make their own connections, and they have to be the face of the school. So I would never in any way want to undermine that, but on those occasions where I think I can just be part of the crowd and nobodies saying, "Oh there's Mrs Jewell," yes. But my heart will always be a colonial. I told you earlier that next to my family this has been my number two priority in life, and that's not going to change any time soon. So an answer to your question: once a colonial always a colonial, and I'll still be keeping tabs.
SF: Last question for you. Do you have a date that is your last day yet or is it up in the air?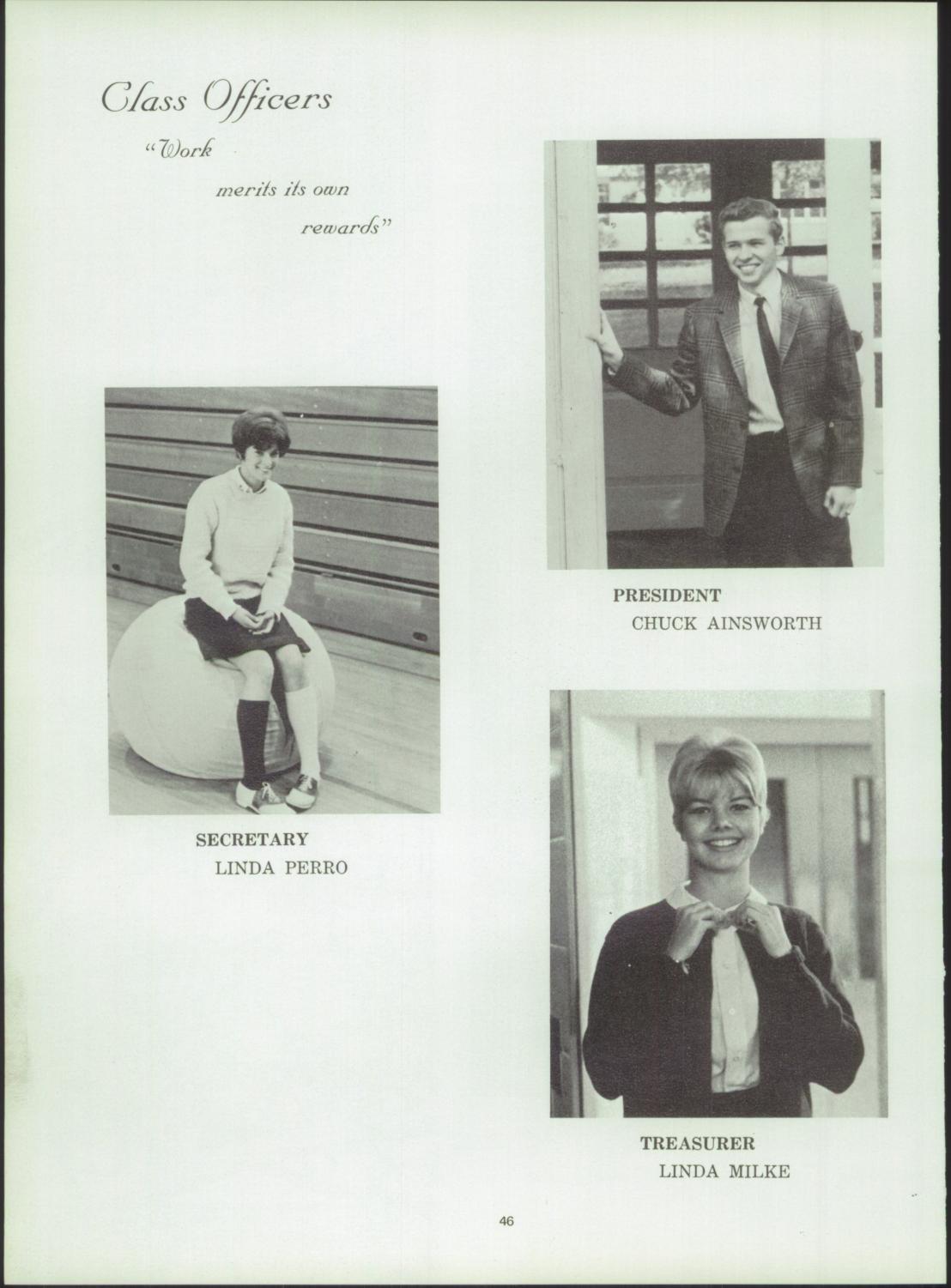 LJ: No, no, my paperwork is in. My last day here will be the partial day before winter recess, so December 22nd and the new principal will start when you come back, January 4th.
SF: That's very exciting for you.
LJ: Yes, it is very exciting. I'm a little like ooh what are you going to do with yourself, you know you've been working since– I've been working for- well, really since when I was thirteen. Babysitting when I was 13, then, I was a telephone operator of town一if you can even believe it. "Number, please!" I worked that job for a long time then, I became a teacher and I even worked in the summer back at the telephone company, So I've never- I've never understood or experienced what it was like not to work. So I'm not quite sure. But there is two things that I've always wanted to do but never quite had the time. I want to learn to play the piano. I have a beautiful piano in my living room. I never learned to play it… my daughter did, I didn't. And I want to take lessons in learning to speak Spanish. I've always wanted to do that, so these are two things that with some discretionary time that for me I hope to be able to do. I'm also a voracious reader. I always have two books going if not- yeah, usually about two. I love historical fiction and I like informational texts that deal with World War II in the European Theater. The whole thing with Eisenhower and Patton and Churchill and Normandy and, and, and, and, and! I'm reading, right now, a book called The Crusades in Europe by Dwight David Eisenhower and it is fascinating because he kept a very extensive diary and so the nuances of what was going on behind the scene, is like a peek behind the curtain. And that I have found that I can't put it down and my eyelids are going like this and the alarm clocks are going to go off pretty early, time to close the book and call it a night.
SF: But now you may not have an alarm, you can just read and read and read.
LJ: That is true. That is one thing I am not going to miss: getting up when it's dark, going to school when it's dark and many nights not leaving here until it's dark. So, going to school it's dark leaving here, it's dark. I'm really not going to miss that.
SF: I bet not. I've done it before too with clubs. It's a lot. 
LJ: It's good now and then, but a steady diet of it is not fun. I just want to say in closing that I am very humbled that you wanted to interview me and it has been a pleasure talking to you, and I wish you well.