The BEST Autumn Movies and Shows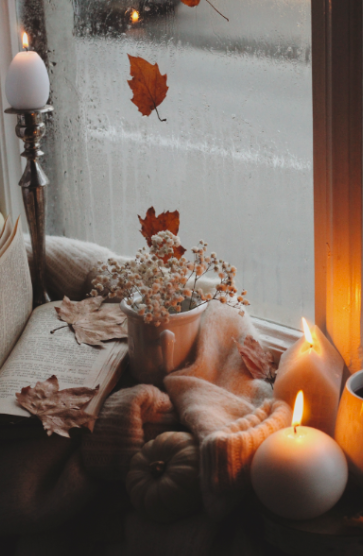 Every season has that special magic about it. For autumn, it's the vibrant reds and yellow of the leaves, spooky haunted houses, and the Friday night football games that really make the season something worth remembering. But after a long day of school, when all you want to do is curl up with a hot cup of chai and watch some TV, here are some recommendations that will truly enhance your cozy night in. 
Gilmore Girls (TV show)

– This show is a year-round show, but it's best in the fall. Gilmore Girls is a lighthearted dramedy(drama/comedy) show about a young mother and her teenage daughter's trials and tribulations working their way through a small-town lifestyle. Whether you start watching for the wonderful mother-daughter dynamic, or just because you're bored, it's a great comfort show to have. 

Good Witch (TV show)

– This show revolves around the enigmatic Cassandra Nightingale, who creates a commotion when she moves into a rumored haunted mansion in the suburban town of Middleton. After a string of strange events, people's perceptions of the newcomer are split; some think she's a pain, while others think she may be something entirely different. The Good Witch is a very tranquil show that is a great addition to your daily routine if you're looking for something more subtle to watch after a long day. 

Coraline (movie)

– Autumn is also known for its spooky season, and Coraline is just the movie to put you in the Halloween mood. The film follows Coraline Jones as she discovers a passage to a parallel, wicked otherworld inside her new house and struggles to protect her family from the evil "Other Mother" who resides there. Although it's a kids' movie, the movie's animation and plot line will slowly but surely draw you in, and by the end you'll be at the very edge of your seats, waiting to see what happens next. Coraline is just the right addition to a cold, stormy day when you're in the mood for a little scare.

It (movie)

– IT follows a group of children in the town of Derry, Maine, known as "The Losers' Club" in the summer of 1989 and their startling encounters with a shape-shifting demonic entity, Pennywise, who is known to reappear every 27 years and preys on personal fears. This movie flawlessly combines teenage comedy into horror, and is the perfect way to start off your Halloween night.
Regardless of how you like to spend your autumn days, it's important to sit down once in a while and relax. Whether you watch a movie, TV show, or just take a nice, long nap, the choice is yours. Try to make the best of the shorter days, and don't forget to eat lots of pie and candy (or healthy stuff if you're into that)!