Winter Athlete Feature: "Mini Maddy"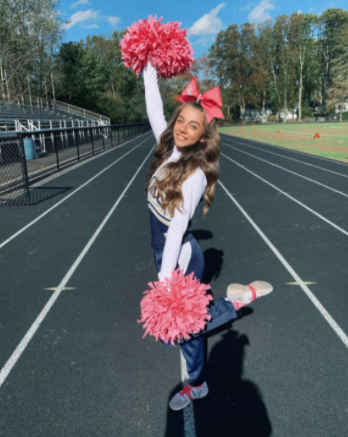 This week, I was able to interview Maddy Simon, aka Mini Maddy! Maddy is a freshman on the FHS varsity cheer team, and everyone knows her for her advanced tumbling skills. I was able to talk to her and ask her some questions about being a cheerleader.
How was trying to fit into the team being that you are only a freshman?
"At first it was weird and uncomfortable but I made new friends that are older and made me feel so welcomed on the team."
How do you balance your school life and your cheer life?
"When I have days off from practice, I take the time to finish my school work. I also do study hall instead of gym, so it helps me get all my work done before practice."
When did you start cheerleading?
"I started cheering when I was three years old, and have fallen in love ever since. I am on the World Cup Shooting Stars All Star team, as well as the school team– cheer is such an important part of my life."
What is your favorite part about the team?
"My favorite part of the cheer team is all of the friends I've made in such a short amount of time."
Sometimes practices might be hard, how do you cool off after a tough practice?
"After tough practices, I usually take a nap to calm myself down and relax."
What is the biggest lesson you've learned from cheer?
"I've learned to never give up. Although we might have tough practices sometimes, I try not to let it get to me and always keep my head up."