Athlete Spotlight: Riley Turner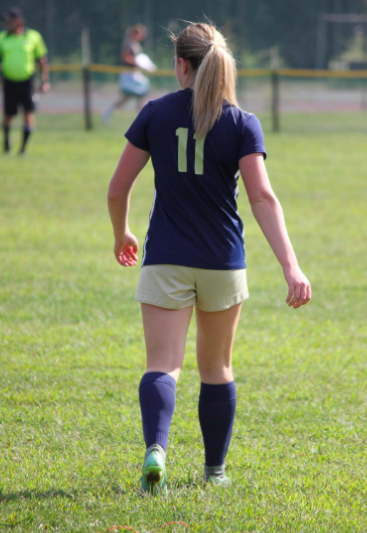 What makes an athlete? More specifically, what makes up some of our athletes and their own experience with sports?
To answer this question, I talked to Riley Turner, a player for our girls soccer team. Riley plays forward and outside mid right for our Colonial Team and wouldn't have it any other way. Riley started playing soccer in kindergarten and has grown to love soccer and the atmosphere of it. "I love how as a team we work together to accomplish things," she said. "It's just so fun playing with everybody and it gives me something to do. Everybody inspires me to do better."
When asked about her love for soccer, she mentioned how she loves the way the team works together and moves as a unit. She explained that when playing soccer, everyone has to act as one singular being and be able to move around the field seamlessly.
A difficulty that Turner mentioned was the feeling you get when you try and give it your all, and it ends in a loss or injuries: "The hard part is working for something, working so hard for something, and then it just doesn't go your way." She also mentioned how shin splints and other injuries have taken a toll on her love for soccer. "Last year, I had really bad shin splints and I just wanted to stop. Everything I did just hurt."
But, having been on the girls' soccer team since freshman year, Riley has gotten used to the soccer life. She mentioned that Coach Biz has really helped her grow and get better year after year. She also mentioned the seniors on the soccer team and how they have helped her become a better player and stay motivated in playing soccer.
Outside of soccer, Number 11 is a member of our track team, the management officer for DECA, a member of Team Challenge, and a member of Boro Fights Cancer. In the future, she hopes to go to Penn State and major in a business-related field.
In the final seconds of our interview, Riley provided some advice for those in and outside of sports, "Those small wins that you find – worth it."