Cozy Thanksgiving Playlist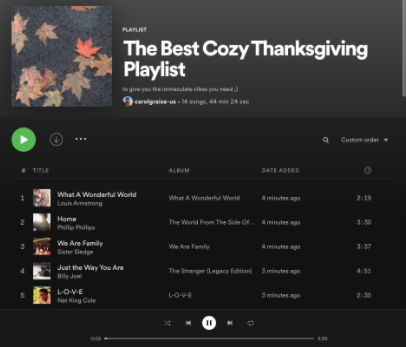 As the leaves change color and autumn come to an end, Thanksgiving is approaching upon us! It is the holiday to give thanks and be united with family and friends over a heartwarming dinner or gathering. Like any other holiday, some tunes to play in the background are a must! 
Here are some cozy songs you can add to your playlist:
"What A Wonderful World" by Louis Armstrong

"Home" by Phillips Phillips 

"We Are Family" by Sister Sledge

"Just the Way You Are" by Billy Joel

"L-O-V-E" by Nat King Cole

"Take Me Home, Country Roads" by John Denver

"Home" by Micheal Buble 

"Thanksgiving Theme" by Vince Guaraldi Trio

"Mr. Loverman" by Ricky Montgomery 

"Cooking Up Something Good" by Mac DeMarco

"God Only Knows" by The Beach Boys

"Autumn Leaves" by Nat King Cole

"Fly Me to the Moon" by Frank Sinatra

"Thanksgiving Prayer" by Johnny Cash

"Don't Stop Believin'' by Journey
These are just a few songs that will bring with that heartwarming feeling that Thanksgiving so greatly radiates. Each and every one of these songs has a homey/cozy vibe that will surely make any dinner or family gathering extra special!