#1 Basketball Player: Will Hon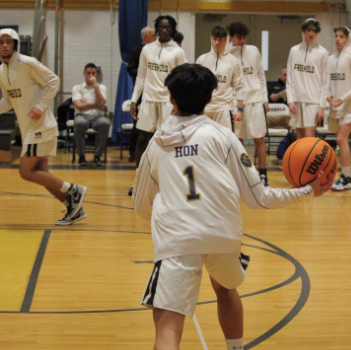 "Off the Grid" by Kanye West booms over the speakers as Boro's boys' varsity basketball team takes to the court. Among the team, a sophomore gets ready to take to the court and dominate the game. That sophomore is #1: Will Hon.
Will Hon is a member of not only the Boro Varsity Basketball team but also the Cross Country team. Outside of school, he participates in Karate and is a camp counselor. On top of these athletics, he also is a student in the Comp-Sci magnet program. As he continues down the computer science path, he hopes to major in the subject in college and become an entrepreneur relating to space exploration.
He states that one of his biggest inspirations for his dream major is Elon Musk: "Elon's story of how he became successful, including all the stories about failed rocket launches, dying companies, and how he didn't really think to ever give up at all." Will also explained what really motivates him. 
But before all of Will's successes, there were moments in which basketball became something that was filled with negative emotions; he admitted that one difficulty of playing basketball was "being short." He recalled one instance where a coach told him, "You're like a fly; you're the smallest thing in this gym. I can't play you anymore."
However, #1 didn't let that comment stop him from playing basketball: "What kept me going was just putting my head down and to just keep working. Eventually, I got better and fell in love with the game again." Now, Hon works endlessly on his skills and has made a name for himself on the boys' basketball team. He also mentioned that he wants to be able to pass down the love of this sport to future generations, just as it was passed down to him.
Will has already begun this journey by being an assistant coach for a rec team. Though sharing the love is one of his key aspirations in this role, he also pointed out that it had provided a different point of view: Will explained that "Although you can come off as harsh and crazy at times, your best intent and care is always about the players, not the result of the game." This mindset allowed him to come back to his teams and appreciate the role of being a coach for his own games. Hon further touched upon the fact that he wants to continue the family-like environment he has enjoyed and seen, watching the heads of the YMCA when first starting.
One of Will's mentors from the YMCA, Coach Guy, is one of his major supporters through the years and has helped him get to where he is today. "When I was ten, before I even knew he coached at Boro, he let me join in on skills and training sessions that I never even signed up for. Those little sessions helped me open my eyes to all the different moves and skills I could do in basketball."
To close, I asked about what advice he has for anyone. He stated, "There will be things you can't change in life, but control what you can control."